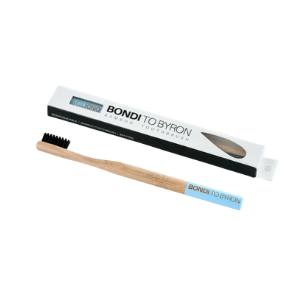 Organic Bamboo Toothbrush BLUE / BLACK
Organic | Vegan Friendly | Natural | Cruelty Free
In Australia alone, more than 30 million toothbrushes are used and disposed of every year, that totals to about 1000 tonnes of landfill in just ONE YEAR. 
The plastic they're made of won't break down in our lifetime. Heck, not even within the lifetime of our children. Now imagine that on a global scale.
Our 100% natural bamboo toothbrushes are
biodegradable
,
vegan friendly
and look super cool in any bathroom.
Product Details
• 100% BPA Free
• 100% biodegradable
• 100% Natural 
Join our mailing list for exclusive updates, promotions and sales